Bossley Park LOCAL ELECTRICIAN
CALL 1300 451 210 for your residential or commercial Installations, repairs and maintenance
Electrical Installation, Service & Repair
Switchboard Install and Repairs
Telephone and Data Cabling
New Light Installations
Safety Switch Installations
Smoke Alarms Installations
Install Powerpoints
Safety Inspections
Sydney wide electrician
Our Foremost Electrical Bossley Park electrician can provide an extensive range of electrical services for clients. Whether your business requires electrical services and maintenance or installations and upgrades, we can provide any form of electrical service for your home and business at Bossley Park. Having been in the industry for more than 20 years, we are well equipped to provide comprehensive electrical service and maintenance.
All our electricians are qualified, licenced, experienced, insured and guarantee all our work You can rest assured that our professional electricians can assess the problem and offer a solution to address the issue. Electrical service is our specialty.
Foremost Electrcians are passionate about electrical solutions at Bossley Park and will work hard to help maintain electrical productivity.
EMERGENCY ELECTRICAL
If YOU OR ANYONE ELSE IS IN IMMEDIATE DANGER, CALL TRIPLE ZERO(000)
No matter what time be confident that when you need an emergency electrician in Bossley Park, Foremost Electrical we'll be there.
There's perhaps nothing more worrying than the smell of burning or a sparking light socket in your home.
The following causes are the ones we see time and time again when we're called to a client.Our Bossley Park customers have an emergency electrician.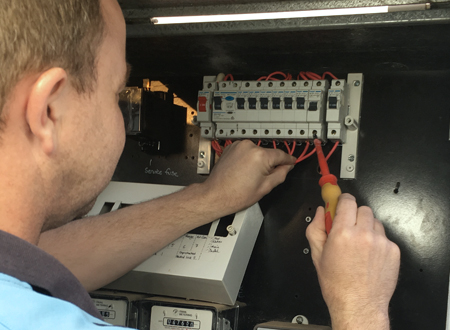 Below are some common electrical issues our emergency electricians are called to:
Electrical fires
These are commonly caused by overloaded power boards or faulty power sockets.
Electrical damage from floods or storms
During wild weather, stay away from damaged appliances and call an emergency electrician.
Safety switch tripping
Faulty electrical appliances or wiring are common culprits of a safety switch that keeps tripping.
Blown fuse
An overloaded circuit can cause a blown fuse Foremost Electrical will help you reset your circuit breaker.
Sparks or smoke coming from an electrical device (e.g. power outlet)
If an outlet is sparking or emitting smoke, the safest bet is to get it inspected and repaired as soon as possible.
Our local Bossley Park electricians can offer trustworthy, efficient service when you need it most. Call Foremost Electrical Team and our professional electrician will attend site to ensure that you, your family, and your home or office is safe.
Service at your Fairfield Region Sydney